For Therapists and Treatment Pros: A New Way to Help
As a therapist or addiction treatment professional, are you frustrated by how hard change comes to your clients? Whether they're just plan troubled or struggling with chemical addiction, talk therapy and/or the traditional Twelve Steps can be life saving. Yet as you know, too many people engaged in these make only incremental progress on the issues that consume them, or find themselves in full-fledged relapse again and again. Isn't it time to try something different?
Less talking, more working
The Brown Method is effective for all control issues, chemical addiction being only the extreme end of a wide spectrum. We all have control issues to one degree or another. As a facilitator of The Brown Method, you support your clients in the work of change. Not talk, but personal psychological/spiritual work whose consistent result is a fundamental change of consciousness that can't help but transform lives — and prevent relapse. The transformations you will be witness to are extremely gratifying.
To be a truly effective facilitator, you will want to complete the process yourself. There's no substitute for that experience. It will enhance your capacity to support your clients and, just as important, enhance your own precious life. Facilitating interested professionals is a priority for us.
Questions?
First and foremost, read Addiction Is the Symptom. While written for the client, it outlines almost everything you need to know, including the details of the process.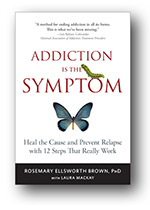 Still have questions? Interested in undertaking the process yourself? We'll be so happy to speak with you. Get in touch via the email form on the Contact page.
Free facilitation package
Please contact us for three documents that you may find helpful:
Facilitation guidelines. Dr. Brown offers some additional information and advice for professionals.
Facilitation agreement. For your convenience, a model facilitation agreement to use with clients.
Workbook. An optional tool, especially helpful for clients who would rather not refer to the book while they're working through the steps.
Career opportunity
It is our intention to devise certification standards for Brown Method facilitators and then build a list of people who meet them, as a resource at this website. There is an opportunity here to not only transform lives, but also transform your practice or treatment center by being among the first to offer this powerful therapy.